It is considered that glamping is a new branch in tourism. However, it is not. Glamping even predates the word. In ancient Rome, generals created comfort in a tent during military campaigns. The European nobility set up comfortable tents in nature. And in the 80s of the 20th century, camping with a high level of comfort was used in Africa for safari.

Traditional camping was one of the few ways to get in touch with nature. However, it was inconvenient for many people due to the hassle with the tent, sleeping bags, cooking and lack of comfort. And only glamping has successfully combined luxury and nature.
Definition of glamping
Glamping means a type of camping that offers more comfort. A typical hike is based on self-service - you set up your tent yourself, prepare food, organize your leisure time. Glamping often includes food and service in the price.
People always have a need to rest and look for a variety of options for recreation. The market turned to the concept of camping. An innovative solution to combine camping with comfort and convenience and to invest new constructional forms appeared. This gave rise to the glamping development. The value for money advantage over hotels has caught the attention of consumers with no previous glamping experience. There were bright reviews on social networks and glamping found its fans. According to our info, by 2014 glamping was already popular in Croatia, Italy, Spain and other European countries and had 1,100 points.
Glamping is also called boutique camping and by many other names.
Glamping (camping + glamorous) is a new type of camping, combining the comfort of a hotel and the romance of the wild nature. The word "glamping" first appeared in the UK in the early 2000s.
According to Merriam-Webster, glamping is outdoor camping with amenities and comforts (such as beds, electricity, and access to indoor plumbing) not usually used when camping.
Glamping has elevated camping to the height of aesthetic pleasure, allowing nature to be appreciated. It provides relaxation and privacy without restricting people or depriving them of their usual amenities.
Top 7 popular types of glamping
Safari tents
The safari tent is a special glamping tent designed for the most comfortable rest and living in nature. This is a large tent, consisting of a high wooden frame and a stretched awning. The height of the tent allows air to circulate freely, which is especially important on hot days. A pleasant microclimate is created inside, which makes it possible to do without an air conditioner. You can put this construction on any landscape. Inside, comfortable beds and other interior items are placed that create home comfort.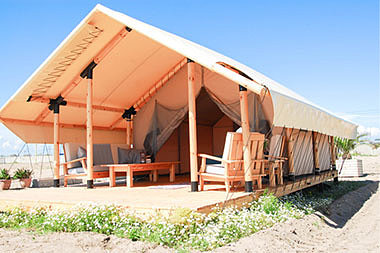 Bell tents
This is a simple construction. The main supporting element is the central pole. This cozy tent is especially good for romantic evenings.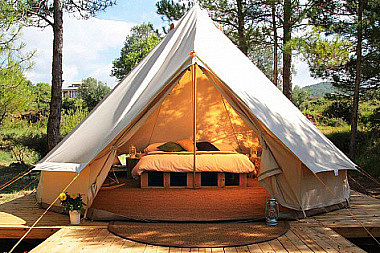 Teepee
Real teepees can be great holiday home. Getting closer to nature will become comfortable and unusual at the same time. A teepee is a round tent with a cone at the base of wooden poles. The teepee awning used to be sewn from animal skin, but now there is a dense awning fabric, which can protect from any weather conditions. The tipi usually has 3-6 m diameter so you can put beds and other furniture that a tourist might need.
Domes
The domes will be appreciated by every camp guest. Such a dome will impress even experienced tourists. These structures can be easily installed in any landscape, which guarantees an unforgettable view through panoramic windows. Such domes are equipped with comfortable furniture and even with a bathroom. Such a construction does not harm the environment, which is extremely important. However, it allows you to relax in nature with maximum comfort.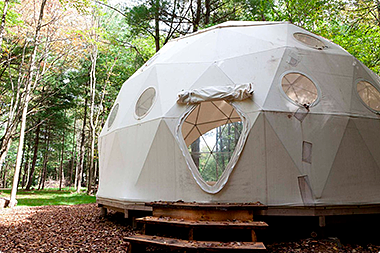 Tree houses
Tree houses can also serve as a zone for creative inspiration, a workshop for artists, a place to relax with friends. If you are used to privacy, then a tree house is a great solution. This accommodation option will bring you back to childhood and provide you with a cozy camping experience.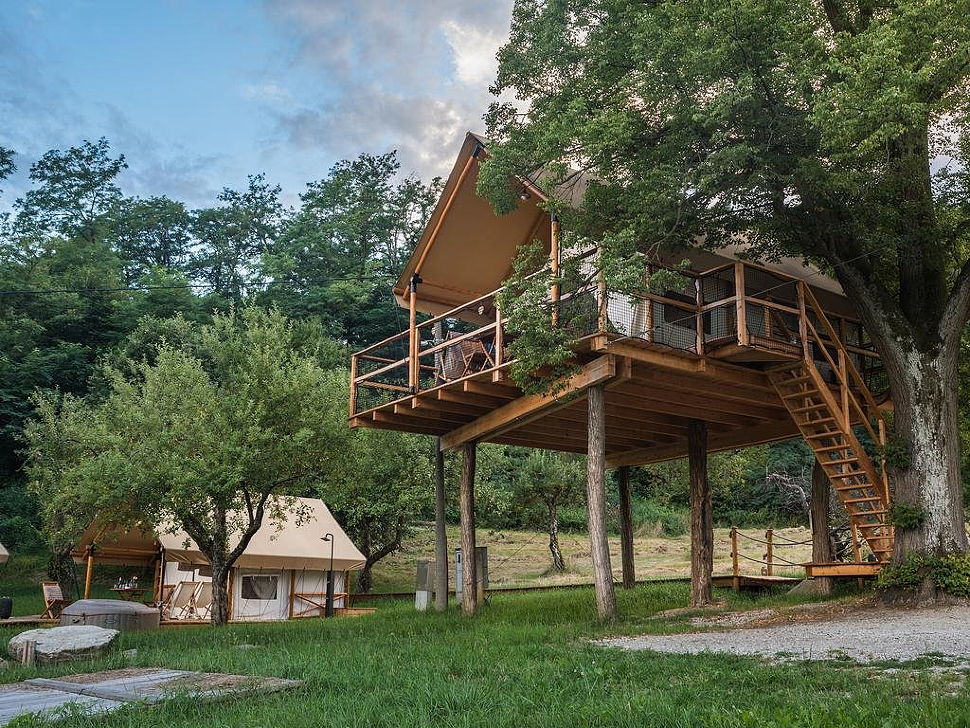 Capsule rooms
The capsule is a completely transparent ball. Its uniqueness is that a 360-degree view is available. This tent is fully equipped with electricity. Нou can maintain a constant temperature inside, which makes it easy to use it even in severe winter. This option is suitable for tourists who love comfort and beautiful views of nature. In such a tent, you can admire the night sky and ocean, mountain views or desert sands.
Eco-houses
Eco-house is a building made of mainly natural materials. Equipped with innovative technologies that allow you to achieve maximum energy savings and comfort. Eco-house is created so that you can feel independent and comfortable in it.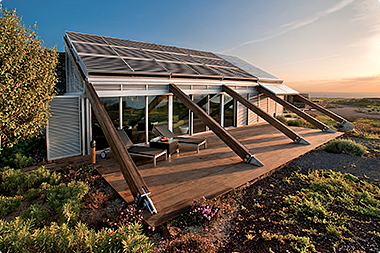 Portable sauna tent for glamping
Glamorous camping is camping with comfort. Comfort also includes saunas. If you are a fan of a hot sauna, then how can you do without a mobile tent sauna? On our website there is a wide range of tent saunas. All you need is to choose the model that you like. With MORZH, you can arrange not only a sauna, but also a cozy living space. A stove will keep you warm, additional accessories add even more comfort, and large windows give you a great view. Make real glamping for yourself!