Dear customers and guests of our site,
In this article, we have published frequently asked questions about our products and answers to them. We hope that this information will help you in solving the difficulties you have encountered, and will also help you choose the mobile sauna or winter tent that is right for you!
What material are the tents made of and how do they withstand heat? Does the tent emit a smell or any harmful substances when heated?
The tents are made entirely of synthetic materials but are completely harmless. 3-layer models are made of a three-layer quilted fabric, consisting of Oxford 240 fabric / Siberia insulation with a density of 80 g/m2 and Taffeta fabric. And 1-layer model Morzh Light is made of a single layer Oxford fabric with PU2000 impregnation.
These are very popular materials for making tents. The fabric is resistant to heat, does not emit harmful substances or smell.
Is there any heat loss in the MORZH SKY tent due to the transparent roof, or does it keep heat in the same way? The same question about MORZH 2 windows vs 1 window.
We assure you that a transparent roof or 2 windows do not affect heating and heat retention in any way. The presence of two windows provides more light and a better view, and the transparent roof makes the model the most romantic of all the other tents.
How does the MORZH LIGHT single-layer tent heat up compared to the three-layer models? Will there be less heat?
Better to show than to write. Watch this video, which we have prepared especially for you.
How many degrees will MORZH MAX heat up with 1 INTENT stove? Do I need to put 2 stoves in a tent or is 1 stove enough?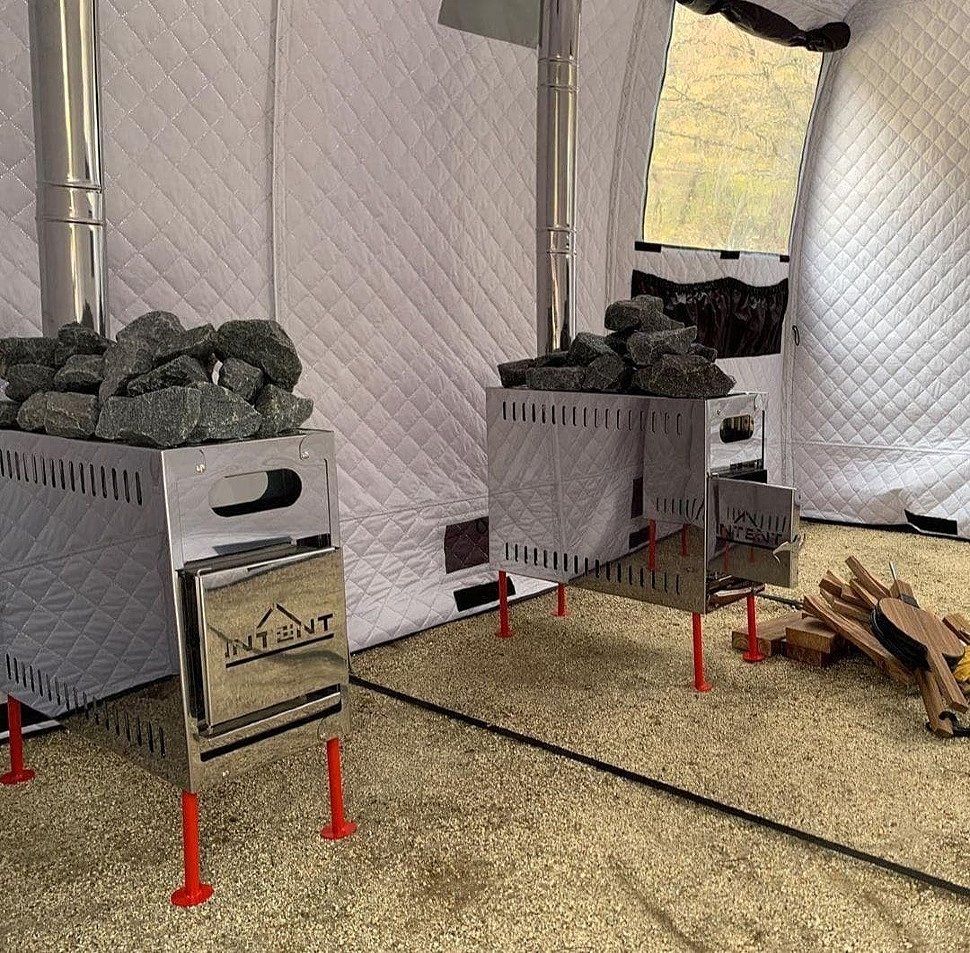 MORZH MAX is the largest tent in our range, and it takes more time and power to warm it up to high temperatures. If you want a temperature of 90°C and higher, we recommend 2 stoves. 1 stove will heat up to 70-80°C. If you decide to install only one stove, we recommend purchasing a warm floor to prevent heat loss.
What is the difference between INTENT and INTENT MINI?
INTENT MINI stove is a copy of regular INTENT, but smaller in size. It is suitable for those who want to save more space in the tent and reduce the weight of the sauna. In terms of power, it is also suitable for sauna procedures.
Which stove do you recommend for a sauna?
Intent and Intent Mini stoves. These are quite hot sauna stoves. The rest of the models are long burning stoves. They are suitable for a comfortable stay in a tent, but their power is not enough for a truly hot sauna.
Which tent would you recommend?
It all depends on your preference. The most popular model is the three-layer standard MORZH, which keeps warm perfectly. And MORZH LIGHT is good for those who want a lighter tent, or live in hot climates and keeping warm is not so important. The MORZH MAX model is suitable for the large company, and the tent with transparent roof or with 2 windows has some cool features that will make your tent special.
Can I use the tent with other stoves not from your range, including the electric one?
Our tents are suitable for use with any stoves, including electric ones. The main thing is that all safety rules are followed. For other wood stoves that are not from our store, check that the chimney diameter and length are suitable for the tent. You may need an adapter or an additional chimney segment.
Can I put my tent permanently outside or does it need to be disassembled all the time?
The tent can be left outside. For extra protection, we recommend covering it with a waterproof cape or piece of cloth.
Is the tent waterproof?
The MORZH LIGHT tent is waterproof. As for other models that are three-layer, we say the following important thing: because of the technological features of the three-layer material, the seams of the tent cannot be glued in some places. There are microscopic holes from the needle. The tent can be vulnerable in very heavy rainfall. Therefore, a waterproof cover is a useful accessory.
Is a warm floor in a tent a must have?
It is an indispensable accessory for comfortable living in cold weather. It does not freeze on the ground, its edges are folded inside the tent, which prevents moisture, snow and cold from getting inside the tent. The warm floor has a convenient feature – part of it can be unfastened, so it is possible to install a stove or, for example, open a space in order to drill a hole for winter fishing. Warm floor is not necessary in the sauna mode.
What do I need first of all for a mobile sauna?

The standard kit is the tent and the stove. Other accessories are optional for extra comfort.
In conclusion, here are some useful links to share with you:
We hope this information is helpful to you. But if you did not find the answer, then do not hesitate to contact us!