Outdoor enthusiasts are interested in traveling in any season. Therefore, the following question arises - how to organize a comfortable stay in any weather? For this, there are four season tents. In the article, we will talk about the design features and materials of all-season tents. You will also learn about some details that the manufacturers pay attention to.
What are four season tents for?
All season tents can be used in many areas. This is seasonal use for hunting and fishing, and the organization of a field bath. It is also a safe shelter for a family or a group of tourists, a field kitchen during long stays. In other words, an all-season tent is a year-round accommodation for people.
Equipment
The feature of the 4-season tent is the ability to use it during the entire tourist season. So it should equipped with some must-haves for use under various conditions.
4 season tent with stove
In cold weather, you need to put a stove in the tent. Therefore, the tent must have a chimney cut, as well as ventilation valves.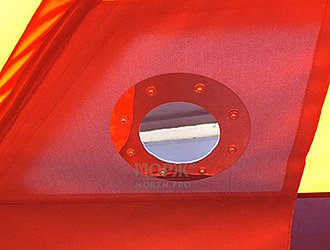 Mosquito nets
The presence of mosquito nets is very important in the summer. You do not have to worry about insects.
Warm floor for 4 season tent
To use the tent all year round, a warm floor is required. It prevents snow and cold from getting inside the tent, so the space becomes suitable for an overnight stay. It is good if part of the floor can be unfastened for winter fishing or installing a stove.
*MORZH tents can be equipped with floor of Oxford 600D material. Fixed with Velcro.
Multiple layers
A good winter tent should have multiple layers to keep the heat inside. Usually there are 2 or 3 layers.
*3-layer awning in MORZH tents in patented. Due to such a technology, these tents are truly all-season.
Manufacturers pay great attention to the material of the awning, as it performs a protective and thermal function. The awning must have good resistance to external influences and a long service life. The most suitable fabric for sewing is moisture resistant Oxford fabric.
What size should an all season tent be?
First you need to decide how many people will use the tent. The ways of use depend on the size. There are small camping tents for 1-3 people, and there are tents for 12. The capacity of a tent also depends on the number of things and camping furniture in it.
Standard sizes are considered to be about 2x2 meters. For large tents - 2x3 meters and more.
Tent frame
The tent is seen as a shelter in any weather. You will hide in it during snowfalls, strong winds, and rains. Of course, it should be stable and reliable so as not to let you down.
The most popular frame option is stainless steel. A tent with such a frame is more universal and will serve you in almost any camping conditions.
Tent color
A bright tent is easier to detect, so if you are going to travel high in the mountains, or make 100-kilometer hikes in snowy areas, choose a bright color. Bright colors also work better in photos.
On the other hand, it is sometimes helpful not to draw attention to yourself. For example, if you are hunting. In this case, it is better to choose a tent in camouflage or other invisible colors.
Good luck with your choice! Choose carefully and for a long time.